It has been for ages, such a long time that we've missed Bangkok nightlife. COVID-19 would have made you all feel craving for an unwinding massage in a hot tub. The country is now reopened and we'd love to pave the way for the return of revival Tarawadee to pamper all the VVIP guests and cater an impressive experience to newbies. Today, we're going to answer all of your questions. How to get started if you want to enjoy an intimate massage at TARA BANGKOK? How much does it cost? What do you need to prepare? Finish this shower guide 101 and make a call!
Tarawadee has rebranded itself as TARA BANGKOK, the best soapy massage in Bangkok
Major rebranding from "Tarawadee" to " TARA BANGKOK"
Over 20 years of being an entertainment venue for gentlemen (massage parlor) in Bangkok, Tarawadee has proven its expertise as No. 1 intimate massage provider and acquired a considerable number of loyal customers. In order to reward our existing customers and welcome the new ones, we spent the two-year COVID-19 lockdown on a major rebranding, whether of guest rooms, restaurant, lobby, parking, amenities, and the launch of the Grand Exclusive Club for members. To touch lifestyle needs and bridge generation gaps, we thus changed the name from Tarawadee to "TARA BANGKOK" – a fully-equipped soapy massage for gentlemen.
Types of services offered at TARA BANGKOK
"Classic" 
Once stepping in, you'll meet our "hostess" who is eager to assist you. You can note your preferences personally and our hostess will introduce you to some right ones to choose from. The girls will intimately introduce themselves and the lucky one will escort you to a private room where the symphony of massage begins. From then on, feel the dynamic of erotic fantasies that will blast you off to heaven!  
"Entertainment" 
For those of you with an entertaining or adventurous nature and wish to unleash your hunter spirit, you can simply let the hostess know you wish to "pick the one yourself," then you can choose any seat you like and "flirt" with the girls in the lounge. Have a chat with our girls there and once you find her, just ask for a more gratifying activity in a reserved private room right away.
Bangkok Nightlife – On-demand entertainment at TARA BANGKOK
On-demand Entertainment: Pick the "girl" you prefer
Among other things, what's important is "choosing" the girl of your type – appearance, shape, or personality. Reaching this line, you may wonder what if there're a large number of guests on that day; are there still enough masseuses for you to choose from? The answer is "totally," because TARA gathers over 40-50 masseuses of premium quality, all of them are pretty in their 20s and have been trained to take care of guests professionally. Anyway, if you can't find one, you may just sit and chill with a glass of drink or two while being immersed in live music, or even leave our place without using any service.
How much is the starter price?
The service fees at TARA BANGKOK start from 6,900 baht, and that's for 1.5 hours. This fee includes a king room with a spa bath, a perfect choice for one guest. You can enjoy the service uninterruptedly until the last minute without being additionally charged. If you still crave for more, you may extend the time for another 1.5 hours each round. More information can be obtained from our "hostess" directly or chat messenger.
More information via Line Official
More information via WhatsApp.
To relish every service we offer, you can also order food and drinks. Here we offer Thai, Chinese cuisines and Japanese Sashimi with cocktails specially crafted for TARA BANGKOK. If you feel satisfied with the massage you receive, tips are also appreciated.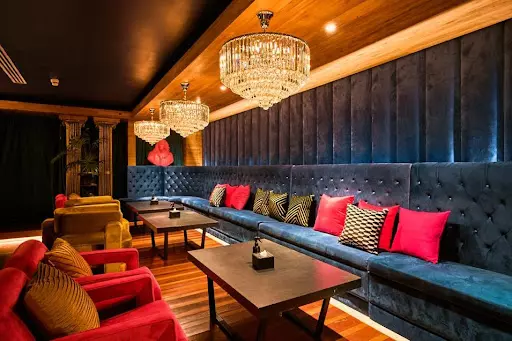 The Grand Exclusive Club at TARA BANGKOK available for members only
What will I get from being a member?
For our loyal customers or those impressed with our services, we recommend you apply a membership for your own benefits and fully-integrated entertainment. The privileges you will receive are as follows:
          A whole bottle of Whiskey for free!

          Free upgrade to suites! Non-members can access only king size rooms.

          Reserve a room and choose your preferred masseuse before anyone else.

          Access to Private Party or Exclusive Dinner Rooms.

          Access to Exclusive Club – a secret bar area reserved solely for members.

          Enhanced convenience as all expenses will be credited to your membership account. 
Our membership requires no charge.  All money you have paid will be topped up as full credits for further spending on services, food and beverages. On top of wasting nothing, you'll also get a free upgrade, free whiskey, and a wide range of privileges. It's so worthwhile!
Read more about the membership
The Modern Dynasty aka 7/2 exclusively for TARA member
Room Features at TARA BANGKOK
TARA BANGKOK offers 5 styles of rooms based on your preferences. Basically, you, as a non-member, have access to king size rooms. For members, you can pick any size of suites and use it for 3 hours at a time. Each suite offers several bedrooms, suitable for 2-4 guests. There are a large fine spa bath, luxury furniture, karaoke, dining area, private bar, with a private bathtub in each bedroom, springy bed that guarantees your relaxation to the full, and Love Love Sofa to heat up the night. On top of that, members also have access to "Penthouse" where you will find a balcony and a gigantic whirlpool in the middle of the room. There are also steam and sauna rooms, altogether creating a perfect space for a private party, bachelor party, or thematic party.
Find more about suites
Pretty young models at TARA BANGKOK soapy massage
Top-in-class services from our masseuses at TARA BANGKOK
Maintaining the quality as a fully-integrated entertainment complex is the key that enables Tarawadee to operate for over 15 years. Every girl here has been dedicatedly selected and completely trained to ensure seamless services, overarching chatting, escorting you to the room, changing your shoes, clothes, and providing you with an intimate massage.
Moreover, at TARA BANGKOK, we also consider the belongings of our guests one of the top priorities. Each room thus has a "safety space" where you can stay worry-free to place your belongings.
With respect to hygiene, every girl carries out an ATK test on a daily basis and has their blood checked by a medical specialist in our office every month. This is how we guarantee that every single one is safe and ready to provide you superb services. 
You can drive your own car as we have a spacious parking space and private parking zone. If you travel by public transport, Hua Mak Airport Link is the nearest station, from which you can take a taxi for 1.8 km. 
Our entertainment venues are not distant from Suvarnabhumi International Airport, only 20 minutes by car and also close to UNICO Golf Course. Thanks to this convenient location, we recommend TARA BANGKOK as a must stop before or after your leisure trip or exercise in order to relieve physical fatigue. When it comes to entertaining, do trust our girls. 
TARA BANGKOK (former Tarawadee) welcomes customers of all nationalities
Does TARA Entertainment Complex serve foreigners?
TARA BANGKOK welcomes and serves customers of all nationalities, no matter which language you speak – English, Chinese, Japanese or Korean, we have staff available to assist you in a courteous and friendly way. If you are interested in Bangkok nightlife and eager to experience the best soapy massage in Bangkok, please reach out to our "hostess" or chat messenger.
More information via Line Official
More information via WhatsApp.